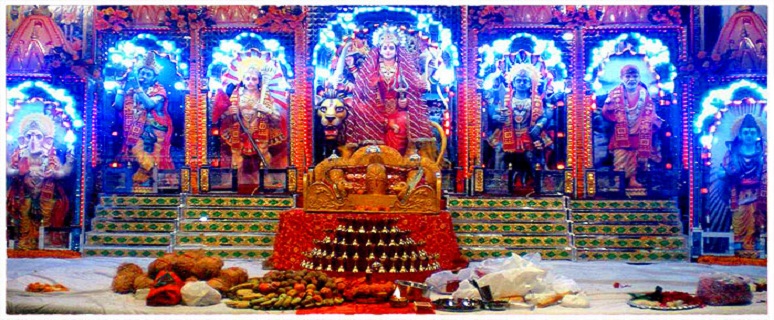 Devotees of Goddess Durga observe fast on the occasion of nine-day-long Durga Puja celebrations every year with full faith and sincerity. The purpose of observing fast is to propitiate Durga Ma and seek her divine blessings. Having been religiously carried out since ages during the festival of Navratri or Durga Puja, the fast has become an intrinsic part of the festival.
Hindus have high regards for Goddess Durga whom they look upon as Ma or Mother of all. Fast to them is a denial of the physical needs of the body and a means to attain spiritual gains besides blessings of the Mother Goddess. Hindus sincerely believe that fasting helps in establishing a harmonious coordination between body and soul. Besides, fasting is also considered to be good for the body. It helps to keep body healthy by giving digestive organs some rest and cleansing the body of toxic materials.
The custom of observing Durga Puja Fast is particularly prevalent in Northern India. In the state of Punjab people observe fast for seven days of the nine-day-long Durga Puja Festival. The fast is broken only on the ashtami or navmi day. Some devotees of Durga Ma consume only milk during the fasting days while some only live on fruits. Some devotees observe 'Ekana' which means that they take one complete meal during the day. Non-vegetarian food, intoxicating substances and other forms of entertainment are completely avoided during the fasting days. Men observing fast are not supposed to shave. Some also believe in sleeping on the ground and thereby deny themselves all luxuries and comforts.
Fasting during Durga Puja festival is also quite popular in the state of West Bengal and several other Southern states. At the end of the fasting period devotees feed beggars and worship little girls who spell the Shakti of Mother Goddess. At several places there is a tradition of sowing barley seeds during the Durga Puja fasting period. In this a small bed of mud is prepared in a little container and barley seeds are sown in it. This is placed in the Puja room and cared for during the fasting period. At the end of the fast the shoots reach a height of 3-5 inches. These are pulled out and given to devotees as form of blessings.
It is interesting to note that the present generation has retained the custom of fasting during Durga Puja. Though many observe fast in its true meaning some have molded it suit their taste buds. Rush of people in the stall selling vrat (fast) ki chaat and vrat ki namkeen is a common site especially in metropolitan cities. Restaurants too offer a special menu to those observing Navratri fast. While many look at the changing trends with skepticism others feel that such transformation does not matter a lot as long as people have faith in Durga Ma.